Have a safe journey to an energy efficient home
17th August 2023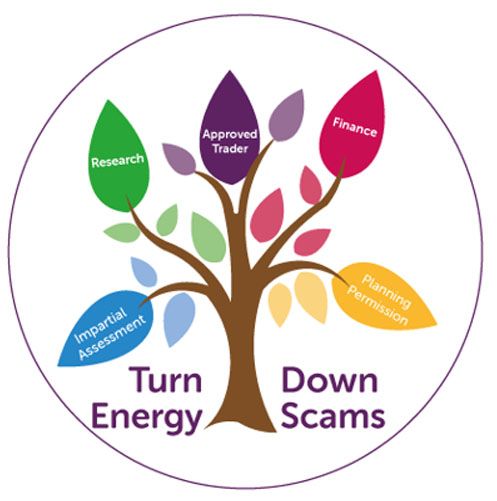 This will tell you:
Which energy efficiency measures will have the maximum impact and will be most beneficial for your home
Which measures should be installed and in which order
If there is any work that needs to be carried out in your property before measures are installed (such as damp/ ventilation/ structure)

Check trusted sources to find out as much as you can about the energy efficiency measures you hope to install.
Find a list of trusted sources at tsscot.co.uk/energy-marketing-scams

Or scan the QR code for more information.

Get quotes from companies/traders who have been vetted by Trading Standards and who have made a
commitment to treat their customers fairly at www.approvedtrader.scot

Find Microgeneration Certification Scheme (MCS) certified installers in your area via the Renewables Installer
Finder at rif.est.org.uk

Before having any work carried out, check that financial protection is offered in case anything goes wrong. This
could be product warranties, insurance backed guarantees or another form of financial protection.

Check if any grants or funding schemes are available in your area via www.homeenergyscotland.org
If you have received a grant or loan to help with the installation of the energy measures:
make sure you know any upfront fees and the total length and cost of the agreement
find out whether the finance is tied to your home or energy use
Don't sign any paperwork until you have read and understood the terms and conditions.

Check whether any pre-permissions or notifications are required before installation (such as planning
permission or building control).

Check whether you will need to carry out maintenance or servicing going forward to maintain the safety and efficiency of
the products.
Avoid cold callers or adverts on social media
Don't accept any information about energy saving measures from these sources without doing independent research, particularly if they tell you there are grants or funding schemes available.
Don't take part in phone surveys or fill out online forms/questionnaires
These are often designed to collect data and generate leads for companies who may cold call you and provide misleading information about energy efficiency products.
Don't agree to allow a company who cold calls you to carry out a survey on your property
They won't provide impartial information and may provide misleading information about the safety of existing energy efficiency measures in your home such as insulation or solar panels.
Be wary of cold callers who say they work for Home Energy Scotland
Home Energy Scotland NEVER cold call people. Scammers may phone or knock on your door and provide misleading information about grants or funding.
Report energy scams to Advice Direct Scotland on 0808 164 6000 or via scamwatch.scot
If a cold caller refuses to leave your property, call Police Scotland on 101 or 999 in an emergency.